Three cheers for German gymnast Sarah Voss, who rejected the overly revealing leotard and reclaimed her own comfort during the 2021 European Artistic Gymnastic Championships in Basel, Switzerland.
Voss, the 2019 German all-around champion, broke with convention and wore a full-body suit stretching down to her ankles for all her events during the April 2021 competition.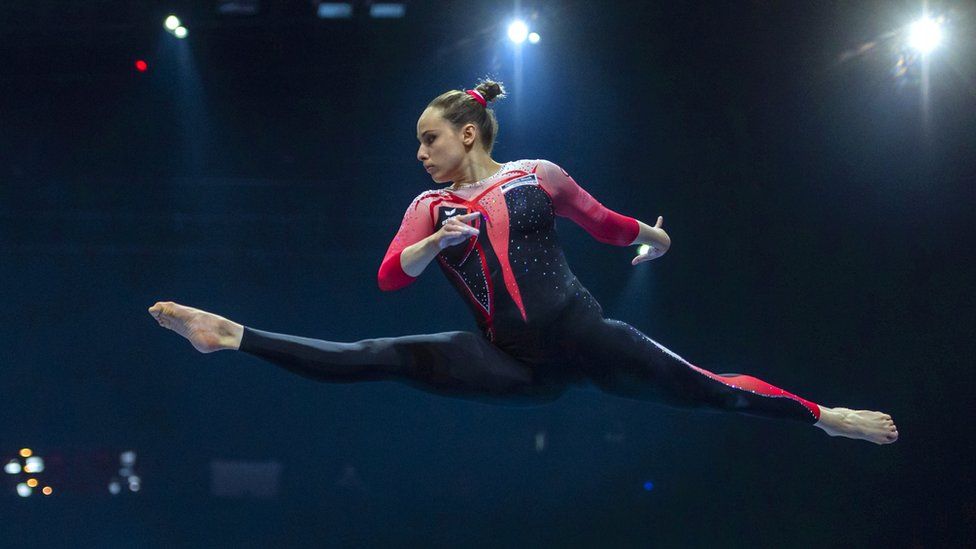 It was a move specifically intended to fight back against sexualization of the sport and send a message that choice, comfort and consent matter. Voss's teammates, Elisabeth Seitz and Kim Bui, also wore full-body suits during the final all-around event.
"We women all want to feel good in our skin," Voss told the German broadcaster ZDF. "In our sport of gymnastics, it gets harder and harder as you grow out of your child's body. As a little girl I didn't see the tight gym outfits as a big deal. But when puberty began, when my period came, I began feeling increasingly uncomfortable…. We decided to show that a gymnast can be elegant, strong and expressive even when wearing a full suit. It shouldn't be a problem to deviate from the normal. The important thing is to feel good about yourself."
The current "normal" attire in competition gymnastics is a one-piece leotard that combines a fitted, sleeved top with a swimsuit-style bottom, cut high on the leg so the outside leg seam passes through the crest of the ilium (the highest, largest part of the hip bone). The crotch of the leotard often provides less than three inches of coverage for the most private area of an athlete's body. It's a design that isn't practical or comfortable for many women who count splits, jumps, somersaults and other body-contorting movements as a regular part of their routines.
"Gymnasts are extremely exposed," former Swiss gymnast Ariella Kaeslin told the Swiss newspaper SonntagsZeitung. "The judges are close at the beam, and for some figures you spread your leaping legs full throttle in front of the judges. That's uncomfortable. That always bothered me."
Voss concurs. "Sometimes the leotards are not covering everything, sometimes they slip. You don't feel safe, [and] it's distracting you from what you want to perform."
Adjusting a uniform during competition can result in a points deduction, so some athletes resort to "gluing" the rear of their leotards in place so the fabric doesn't slide up their buttocks during competition. Others simply quit the sport after puberty because they don't want to wear the leotard, or deal with associated feelings of discomfort and vulnerability.
Voss and her German teammates, under the guidance of coach Ulla Koch, worked for a year to select and design a less revealing, more body positive uniform option for competition. German athletes now have the choice to wear either a leotard or a full-body suit in competition.
Those options fit with international gymnastics regulations, which permit female athletes to compete in either a leotard or a full-body unitard stretching from neck to ankles. The full-body option had only been used by athletes required to cover up for religious reasons — until Voss vaulted it into the spotlight.
The full-body suit garnered overwhelmingly positive reactions in the media and throughout the wider gymnastics community, suggesting that many athletes, parents and officials have been gritting their teeth and tolerating an unsettling status quo for some time.
"I got a lot of responses from parents telling me that they sometimes feel a little unsafe with their kids having [to wear] such short leotards in training, and especially in competitions," Voss told BBC Radio. "They told me that [the full-body suit] is a nice opportunity for their little kids."
The German team experimented with shorts and three-quarter-length leggings before deciding on the full-body suit, which they found to be the most comfortable and aesthetically appealing option.
While form-fitting shorts and shorter leggings are not specifically prohibited under international regulations, both could result in points deductions for competing athletes. An online petition to USA gymnastics currently has over 26,000 signatures in support of including shorts as acceptable attire for female gymnasts.
In the meantime, Voss has taken a solid step towards putting the power of women's bodies back where it belongs: with each woman herself, as a personal choice.
It's a safe and liberating feeling to have choice over how you present your body during athletic competition, and it's a relief to know that you can then keep your focus squarely where it belongs: on your performance.
"We hope gymnasts uncomfortable in the usual outfits will feel emboldened to follow our [team's] example," says Voss. "It does not say that everyone should [wear a full body suit], it just says that everyone can do whatever they want. Feeling good and still looking elegant? Why not?"
Sources and further reading:
Demand USA Gymnastics to allow female athletes to wear shorts during competition. change.org petition. Accessed 25 May 2021.
"Explained: Why women gymnasts are bringing a major shift in how athletes dress." The Indian Express, 26 May 2021.
Fédération Internationale de Gymnastique. 2017-2020 Code of Points: Aerobic Gymnastics. (Valid through December 2021.) Section 2.3 – Dress Code.
Fédération Internationale de Gymnastique. 2017-2020 Code of Points: Women's Artistic Gymnastics. (Valid through December 2021.) Section 2.4 – Penalties.
"German gymnasts' outfits take on sexualization in sport." BBC News, 23 April 2021.
"Germany's gymnasts' full-body suits are a long-awaited F-You to sexualization." Scary Mommy, 30 April 2021 (updated 2 May 2021).
"Sarah Voss: German hopes full-body suits make young gymnasts feel safe." BBC Sport, 28 April 2021.